Just Show Up



If you've read some of blog posts, like The Accountant, then you're pretty familiar with the whole point of Today I Can. If I can do something like that, then there's really no excuse for you.
Let me give a little bit of encouragement, though, because that's the other part of Today I Can. I started working out a gym called Performance Vault, located here in Dallas, and it's owned by a guy named David Vobora. If you're thinking, "David Vobora! Wasn't he Mr. Irrelevant in the 2008 NFL draft and later played for the Rams, then the Seahawks?" then congratulations, you have an insanely good memory.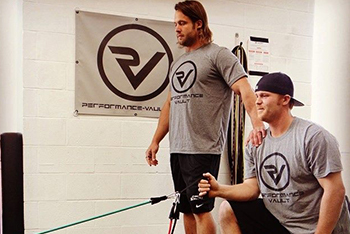 If you don't know who David Vobora is, he was Mr. Irrelevant in the 2008 NFL draft and played for the Rams, then the Seahawks. He retired from the NFL after the 2011 season and started up the Performance Vault Gym and, a few years later, the Adaptive Training Foundation.
David is what you'd call an elite athlete. Of the hundreds of thousands of high school athletes, he was sent to college on a scholarship for football. Then, he was selected for the NFL draft, an honor that isn't afforded to just any collegiate athlete, and was ultimately selected by the St. Louis Rams as linebacker.
While his football career is certainly an important part of his story, it's arguably not the most important. Why? Because the work Vobora is doing now is literally changing lives. And it started because one person just showed up.
After his career in the NFL, Vobora opened up Performance Vault and worked as the head trainer. One day, though, he came across an US Army Staff Sergeant Travis Mills, a veteran who had become a quadruple amputee in the course of his service. Travis Mills had some clear disadvantages and special needs when it came to exercising, but he had all the drive and spirit of a true soldier. Vobora asked him to come to Performance Vault, and thus began his venture into "adaptive training" for disabled veterans and others with special physical needs.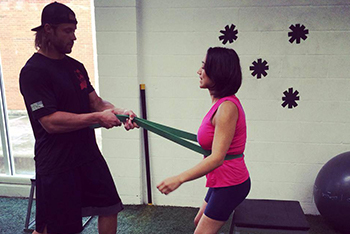 Though someone like Travis Mills had every excuse to bow out of exercising or just say that it was too difficult, he didn't. He showed up the next day, just like Vobora asked him to, and he started doing some special workouts designed just for him.
The Adaptive Training Foundation is a 501(c)3 non-profit that Vobora started as a followup to his interaction with Travis Mills. Today, injured veterans and others can get instruction from Vobora and his staff as they navigate life with their disability.
And that's the thing. These injured veterans have already given so much for their country, and they're still showing up for physical training at ATF. For some, it's about all they can do to just show up. For others, it's easier.
I wonder which category I fall into? (Hint, it's the "just show up" category)
However, David Vobora could not have worked out enough, lifted enough weights, or run far enough to make a difference in Travis Mills's life alone. All Mills had to do was not show up, but he did show up. And now he's more mobile than he was before, thanks to his hard work and David's efforts.
In my own story, I've often shared how my old friend Doug Walker did so much for me, but I should point out that Doug could not have ridden far enough to make me lose over 130 pounds. That part was on me.
My high school scoured the countryside in search of one kid slower than me and came up empty. For every team that had to make a cut, it was me. There was just one 8th grader who played on the 7th grade team when we needed to split squads, and it was me. I never started a non-scrimmage in 4 years of high school football.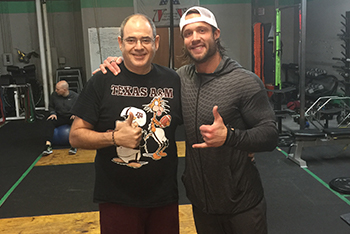 Today, I have spinal stenosis and I still run like a duck. I used to have high blood pressure, high blood sugar, a fatty liver, and my cholesterol was off the charts. I still can't shoot a basketball or hit a baseball with a bat (or a barn door, either).
But today, I'm a better athlete than most of those kids that were faster than me, who made teams I didn't, who started in front of me. Why? Just one thing, I showed up. I started riding my bike and gradually worked my way up to where I am now. Just one day at a time.
The truth is, I am the most unremarkable athlete you will ever meet, and I rode from Canada to Mexico on a bike! And over a course I had never seen before. And it was due to nothing more than the fact that I simply showed up to get started.
In 2016, I rode 64 miles in 3 hours with a pace group before my legs cramped up. At 51, that's crazy; and for me, it's insane. And it's only because I showed up.
Just this past week, two folks said they were going to show up and ride with me. One of them has a bad back, like me, but realized that wasn't a good excuse for not showing up.
If you'd like to join me on a ride, shoot me an email or just fill out the form on the side. I promise that you won't regret just showing up. And if it works out okay, then try it again the next day.
0 comments

Dec 23 20:40
How does an accountant who weighed in at 350 lbs lose over 120 lbs? With a lot of inspiration, and one day at a time.
Contact Us
Do you have any questions? Would you like to share your Today I Can story? Send me an email, I would love to hear from you