Final Stats from the Today I Can Pac Coast Rides



Final Statistics from the Today I Can Pacific Coast rides
There were 29 different rides on the tour.
I traveled 1,873 miles on those rides.
There was 90,617 feet of elevation (riding uphill) on the ride.
The tour took 128 hours and 47 minutes of moving time to complete (only counted "moving time" doesn't include time while taking a break, taking a selfie or standing around holding a bike over my head).
The rides ranged from 50 miles to 100 miles.
The most elevation I had in one day was over 5,000 feet twice, once in Oregon between Pacific City and Florence and again in California, on the Big Sur between Carmel and San Simeon.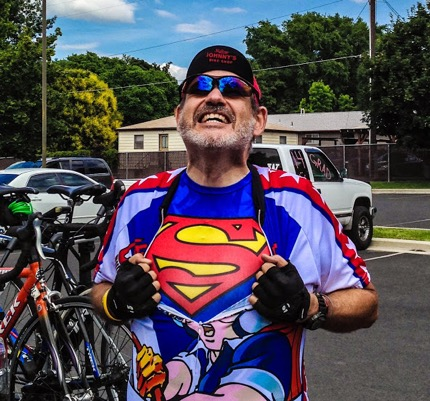 Their were two long rides of just over 100 miles, once from Santa Barbara to LA and again from Arizona to Arizona State.
The Arizona ride included my best speeds as I was able to roll without traffic or big climbs for virtually all of the ride. My moving time was 4 hours and 41 minutes on that ride for an average of 21.5 miles per hour over the 100 miles.
That ride also included my fastest 40 km (approximately 25 miles) at 1 hour, 2 minutes and 10 seconds for an average speed of 24 MPH.
The lowest temperature was 50 degrees on the ride I crossed over from Oregon to California on July 11th.
The highest temperature was 114 degrees, two times, once between Fort Bragg and the Napa Valley on July 14th (a ride that began at 57 degrees before the temperature literally doubled as I rolled away from the coast) and again in Arizona, where it was just hot the whole darn ride.
Pictures from each stop on Tour de Pac 12
Videos:
0 comments

Mar 01 21:33
When I was a kid and I was running fever and had a headache, my mom would make me a cold compress, give me some aspirin and let me know it would make me feel better. If I had a belly ache, I'd tell my mom and out would come the Pepto-Bismol that crazy big silver spoon and a reassurance that this would make me feel better. If I came home from school after I had a rough day, my mom would feel bad for me and she would fix me a snack and set it in front of me, turn on Gilligan's Island and I'd feel better. I don't know that she was doing anything but trying to make her little boy happy but the thought was there for me, this made me feel better. So I had it all figured it out, got a headache? Take an aspirin. Got a tummy ache? Take PeptoBismol. Got a heart ache? Eat some Cheetos. She's not a bad mom, it's not her fault, she just didn't know that's what I was thinking, but it was and it got worse.
Contact Us
Do you have any questions? Would you like to share your Today I Can story? Send me an email, I would love to hear from you